MONUMENTS

---
"DEDE GJON LULI"
MUSEUM

The Ded Gjo' Luli Museum, in Bardhaj - Malësi, was officially open on April 6, 2006. This museum was built on the same foundation as Ded Gjo' Luli's old house, which was left in ruins during the Montenegrin & Turkish aggression in the early 20th Century.


The museum's grand-opening shared its festivities with the annual celebration of the "Highland Uprising of 1911." It is also known as the "Ded Gjo' Luli Feast" and commemorates the historical day of April 6, 1911, when Ded Gjo' Luli and his fellow freedom-fighters raised the great Albanian banner for the first time since Gjergj Kastrioti's era in the 15th Century.


Speeches by well known Albanians in the region were accompanied by customary highland folk-music and dancing in the tradition garb. Meanwhile, the red and black Albanian flags were soaring in the gusty mountains of Bardhaj in Hot.


Inside the museum are old artifacts, paintings, and murals from Ded Gjo' Luli's era. This magnificent time-capsule was built by the organized funding of the generous Albanian people of New York, Michigan, and Malësia.

May this museum stand always as a symbol of the great
Highland people and the undying Albanian spirit
to rebuild its unforgotten ruins!


Please click the
Photo Gallery
link to view more pictures of the Ded Gjo' Luli Museum
---

This city street, named after Dedë Gjo' Luli, is located in Albania's capital of Tirana,
north of Skanderbeg Square (behind the National Historic Museum)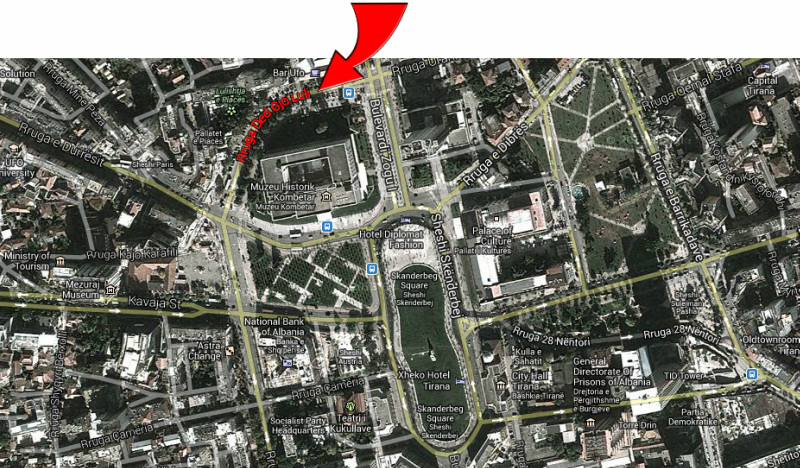 ---
The Dedë Gjo' Luli Monument in Tirana, Albania

This statue is located in the Albanian capital of Tirana at the
National Historic Museum, facing the street named after Dedë Gjo' Luli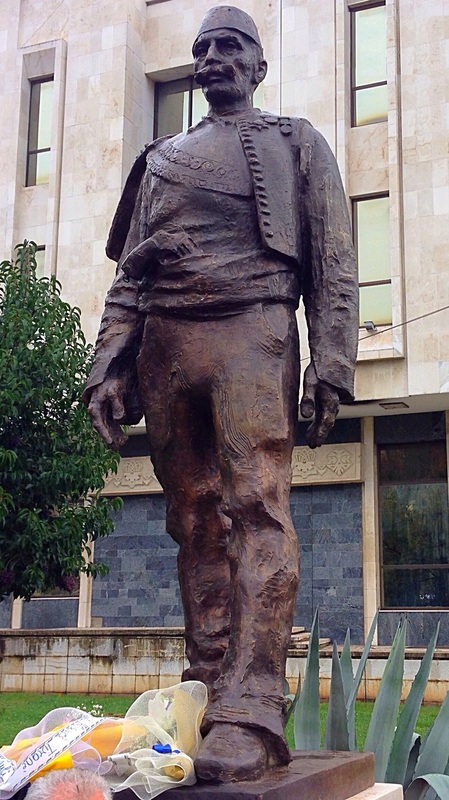 Click to Enlarge

---
Monument Dedicated to the Raising of the Albanian Flag on April 6th 1911
in Bratila-Deçiq, Malësi

Click to Enlarge

---
Monument Dedicated to the 1911 Great Highland Uprising
in Hani i Hotit, Albania

Click to Enlarge
---
The Dedë Gjo' Luli Monument in Tuzi, Malësia

This statue is located at the Church of St. Anthony's in Tuzi, Malësia
Click to Enlarge
---
The National Flag Medal

On November 27, 2015, the President of Albania - Bujar Nishani, honored Dedë Gjo' Luli with the
"National Flag Medal", received by Vat Marash Dedvukaj, decendant of Dedë Gjo' Luli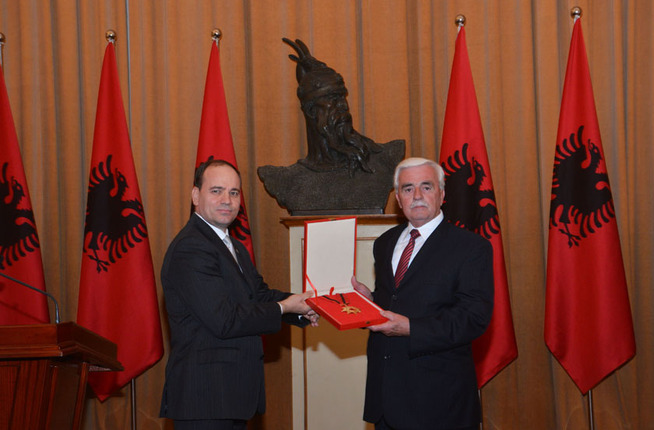 ---
The Grave of Dedë Gjo' Luli's Son - Gjergj Deda

Click to Enlarge